Bending Composite Decking
HC 99-300 Heat Forming Kit Heatcon 800/556-1990 www.heatcon.com Street price: $3,000

Figure 1. In about 40 minutes, heat pads raise the temperature of the composite board, making it bendable. Insulation above and below keeps in the warmth.
I'm no stranger to bending composite deck boards by heating them. Over the last 10 years, I've tried a number of different methods, but only recently have I found one that's truly feasible.
Experiments
In 1997, for example, I used a 20-inch Sonotube and some space heaters to bend Trex. Unfortunately, this method was slow and imprecise; just when I thought I had it fine-tuned, I'd break another three or four boards.
Next, I built what may have been the first decking-bending tank, with a 12-inch schedule-40 PVC drainpipe and four 120-volt water heaters. It heated boards faster and more consistently than my other system, and I used it to build three "ego decks" — the kind that build up your ego, but not your wallet.
I attempted to use my drainpipe tank, one cold January in 1998, to bend decking for what I planned to be the most awesome display deck at the local home show — and I broke 26 20-foot boards in a row.
I tried one final bend, letting the deck board sit in the boiling water while I ran an errand. The tank reached critical mass and sagged, spilling the water and leaving me with a steaming pile of trash and the realization that no one was going to pay for the true cost of that bending procedure.
Heatcon HC 99-300 Kit
Off and on, I continued to play around with bending. Then last October at the Seattle JLC Live show, I saw Keith Skogland and Keith Cahill from Heatcon bending PVC trim and some decking. I asked if they could bend EverGrain decking, and they said, "If it's got plastic in it, we can bend it." As I've found that EverGrain is particularly hard to bend, I was intrigued.
Heatcon has been manufacturing flexible heating blankets and controls for the aerospace composite-repair industry for the past 25 years. Two years ago, a large PVC-board manufacturer hired the company to design a system to bend PVC trim, and since then, more than 500 PVC-bending kits have been put into the field.
Heatcon has now turned its attention to the decking industry with the introduction at JLC Live of heat forming kits for bending composite decking (Figure 1).
The 10-foot kit costs $1,700 and the 20-foot kit costs $3,000. All heating blankets are 120-volt and run on house current.
Bending EverGrain
I obtained a 20-foot kit. To test it, I had the perfect project: I was replacing the decking on a curved deck I'd built four years previously. At the time, I had wanted to bend the top cap of the guardrail, but settled instead for jointing it at each post. Now I planned to use EverGrain decking boards bent to the curve of the deck to create a nearly seamless top cap.
I drilled a 1/8-inch hole in the side of the deck board and inserted a digital thermometer to monitor its internal temperature. One heat pad went below the board, and one above, with insulation piled on top to hold in the heat. It took about 40 minutes to reach the magic number of 265°F — hot enough to soften the board, but not so hot as to scorch it.
My helpers and I pulled back the insulation and lifted the "noodley" deck board. We placed the hot board on the deck and pushed it up against the posts, bending it to the exact curve of the deck but at a slightly tighter radius than ultimately needed, to allow for some "spring back" (Figure 2).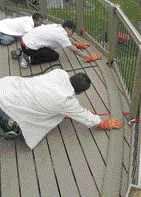 Figure 2. Pushed tight to the inside of the posts and secured with binder straps, the bent board is left to cool. Working to the inside of the posts bends the board to a slightly tighter radius, allowing for some "spring back" at installation.
We used binder straps to hold the board in place while it cooled, and stuck another deck board between the blankets to heat. Forty minutes later, out popped another noodley deck board. We cut and installed the first one, then repeated the process a couple of times until we had created a beautiful curved railing for my clients (Figure 3).

Figure 3. After its length is marked in place, the bent board is bevel-cut to be joined to another (left). The crew uses screws to attach the curved cap rail (right).
The Verdict
I have to tell you that EverGrain has not fully endorsed heating and bending its products. But I will also tell you that this is the neatest bending apparatus I've ever played around with. I'm already thinking of all the artistic inlay designs, curved ribbon edge boards, and curved railings that I will be able to offer my clients — not to fill my ego, but to fill my wallet.
Okay, I confess, maybe my ego will like it, too.
Kim Katwijk builds decks in Olympia, Washington; Linda Katwijk helps put his experience into words.
---
A Pair of Cordless Impact Drivers
Hitachi 18V WH18DL 800/706-7337 www.hitachipowertools.com Street price: $280
Makita 18V BTD140 714 522-8088 www.makita.com Street price: $295

The rat-a-tat-tat of a cordless impact driver is music to my ears. I've owned several over the past 10 years, and they're absolutely essential to my business. So, I was excited to try out two new drivers that use lithium-ion batteries as opposed to the previous generation's nickel-metal-hydride batteries. With more than 2,000 lineal feet of bad decking to remove and replace, I gave them to my crew for a head-to-head competition.
The Contenders
Up against the 3.5-pound Hitachi 18V WH18DL was the 3.3-pound Makita 18V BTD140. The Hitachi has an overall length of 63/8 inches with a maximum torque of 1,330 inch-pounds. The Makita is slightly more compact, with an overall length of 53/4 inches and a maximum torque of 1,280 inch-pounds.
The first thing my crew and I noticed about these new drivers was how much more torque they had than the old NiMH impact drivers. The weight difference between the new and the old, though, is barely noticeable.
Comfort and Performance
Round one went to the Makita, as the guys preferred its balance and feel over that of the Hitachi.
The performance round, however, was a tie. Both guns removed screws easily all day long, with no noticeable differences, and they both did an excellent job driving screws and lags.
The Hitachi and the Makita both claim 3-amp-hour batteries, and, again, there was no noticeable difference between the two. We did notice a definite improvement over the old NiMH-battery tools, though.
Both impact drivers have lights. The Hitachi's is part of the tool hook and sits to the left side of the grip. It can be turned on or off. The Makita's light is integrated into the main tool body just below the driver tip, and turns on every time the driver is activated.
Warranties
The warranties are difficult to compare. Makita offers a three-year warranty on the tool, with a limited, one-year warranty on the battery. Hitachi's impact driver has a longer, five-year warranty, but its batteries are warranted for just 90 days. Because the battery is usually the first thing to go on cordless tools, this round went to Makita.
The Decision
In the end, we called it a draw between these two tools. But between them and the old NiMH-powered drivers, there was no comparison. You definitely want a lithium-ion-
powered impact driver.
---
Double-Tire Wheelbarrow
by John Wilder
Jeep WB8PFRDH The AIM Group 914/934-9833 www.jeepwheelbarrows.com Street price: $189

Every year I go to the International Builders' Show looking for something that makes me stop and say, "Wow," and this year I was not disappointed. Among my favorites was the Jeep double-tired wheelbarrow (it's licensed by Jeep and DaimlerChrysler, not made by them).
The sales rep who was demonstrating it — who weighed at least 200 pounds —threw himself into the wheelbarrow and then asked me to wheel him around. Surprisingly, thanks to the well-balanced bucket and the low rolling resistance of the wheels, it was nearly effortless.
As a guy who has wheeled far too much concrete uphill and over rough terrain, I can't recommend this wheelbarrow enough.
A 3/4-inch-diameter axle (larger than the standard 5/8-inch wheelbarrow axle) helps to earn this wheelbarrow a 500-pound load capacity, while rebar-reinforced side stays support an 8-cubic-foot HDPE tub. Long steel handles come higher off the ground than is typical, providing a longer lever for lifting heavy loads, and a shorter reach for an aging back.
The flat-profile, non-pneumatic tires are guaranteed not to go flat, and are said not to sink as far into soft ground — such as mud or sand — as regular round-profile pneumatic tires. And for about $50, these wheels can also be had as replacements, bored for a standard 5/8-inch axle.
The bad news? You can't buy this wheelbarrow just yet: It's not due out until the second week of June. The projected $189 price is more than most wheelbarrows cost, but probably less than a series of visits to your chiropractor.
John Wilder is a deck builder in Jacksonville, Fla.
---
Clamp-on Joist Holder
Joist Jaw Grabber Construction Products 800/477-8876 www.grabberman.com Street price: $56/pair

One of the cool finds at Deck Expo this year was the Joist Jaw, a forehead-slapping why-didn't-I-think-of-that tool. It clamps to the top of a joist by means of an integral handscrew, and a heavy-gauge steel tab extends past the joist's end to rest on a ledger or flush-beam. With the joist thus supported, affixing the joist hanger becomes a snap.
An added advantage is that the Joist Jaw automatically flushes the top of the joist with the top of whatever member it abuts. If I were still building on a regular basis, I'd take the padlock off my billfold and buy a pair of these in a heartbeat. — A.E.
---
Arcus Radius-Cutting Circular Saw Blade
7 1/4-Inch Carbide-Tooth Blade Arcus 502/495-2959 www.arcusblade.com Street price: $65

Is it possible to cut decking to a 35-inch radius arc with a circular saw? It is, if you use an Arcus 7 1/4-inch, 24-tooth, carbide circular saw blade. Just slip this blade into your favorite circular saw (with a 1/2-inch arbor), and you can cut a clean arc in almost any material at any depth up to the full depth of the blade (2 3/4 inches). It's easy to guide and gives a smooth finish.
Set the blade 1/4 inch deeper than the thickness of the material to be cut. You can start cutting on the edge, or with a plunge cut; the rest of the cut is done at a normal speed. Don't force the blade through hard material — just take it slow and easy.
On a recent deck job, I test-cut arcs with radii from 35 inches to 14 feet in EverGrain decking material using the Arcus, as well as a standard carbide blade. The standard blade did fine on arcs with large radii, but for arcs with radii from 35 inches to 6 feet, the Arcus is the perfect blade. It is a bit expensive at $65, but worth it if you cut curves regularly.